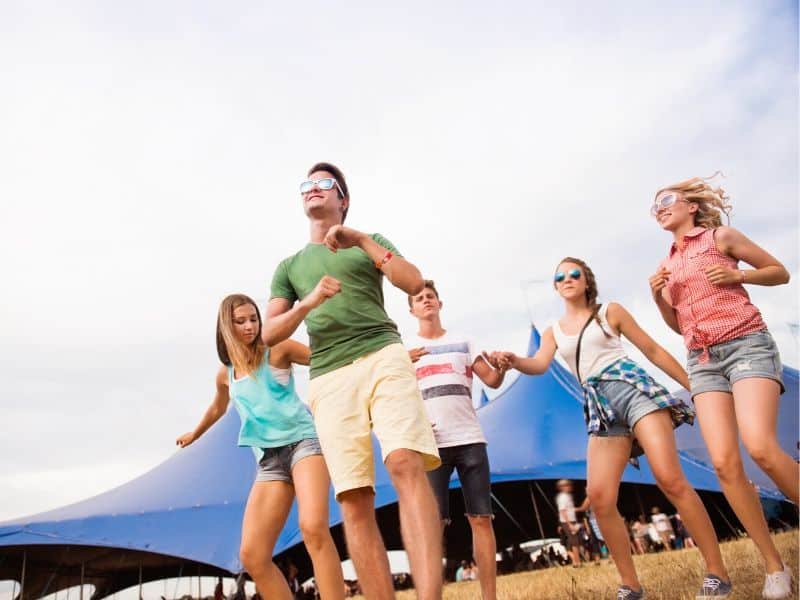 Music festivals have become a summer tradition in many parts of the world. One of the great attractions is to go camping at the festival campsite with your friends or people close to you. If you are going to sleep at the festival campsite and have never been to one, you will need some preparation. The festival campsite is one of the most varied, as you will see groups with family tents, others with instant tents or igloos. Follow this guide to festival camping and just enjoy this wonderful event. You're going camping at a festival, but you don't know what to take with you? Of course, you want to spend these days as relaxed as possible. So use a checklist to make sure you don't forget anything. Probably not all the points apply to you, but at least you won't forget anything.
Don't Spend a Fortune on a Tent
After a festival that lasts several days, many people leave their tents. This is because for various reasons, either the tent is (partially) broken, or it is super dirty.  You don't need a very expensive tent to enjoy the festival. You just need a good rest to be fit the next day. Look for a tent that is easy to set up and doesn't waste too much time that you can use to enjoy the festival. A light-colored tent attracts less heat during the day but gets dirty more quickly.
Find a Spot in the Shadow
It is very comforting to wake up in your tent without sweat after having enjoyed a great day of music.   A correct place with shade would be between trees, but what if there is no vegetation on the horizon? Then take a canvas with you with its respective bars to be able to hold it. It will give you space with shade, so you don't have to roast in the heat, especially during summer festivals. A great tip is to try to get to the campsite as early as possible so that you can choose the best spot.
Make Sure You Get a Good Night's Rest
What's your favorite artist coming to perform on the last day? Then you don't want to miss that performance because you feel awful. That's why a good night's rest should be mandatory. Something that helps enormously to lengthen your rest, to isolate you from the high volume of music and noise both at night and very early in the morning, is to bring your earplugs. For them, you can bring a sleep mask.
Don't Run out of Battery on Your Mobile Phone
After several days of the festival, if you don't have anywhere to charge your phone's battery. It is best to bring a portable charger, previously recharged at home, in which you can fully recharge your phone battery approximately three times. Try to save your battery, so you don't have to charge it as often. To do this, turn off the Wifi mode, the Bluetooth, and even activate the airplane mode. Referring to those who enjoy playing online casino games in their free time, don't do it when being on a camp festival. You will play your favorites when you got back home, because bodognodeposit.com will always be here for you, offering you the best bonus codes and free bets promotions. It will also save up a lot of your phone battery. Taking pictures also consumes a lot of battery power so that you can bring your camera.
Bring a padlock to close your tent and ensure the safety of your belongings. With this, you will naturally not be able to stop expert thieves but to keep drunk visitors away from your tent. Be careful not to bring valuables to a festival such as tablets, laptops, etc. and leave them at home.
Pay Attention to the Weather Forecast
Are the weather forecasts favorable, and you're going to be under the sun practically all day? Then bring some sunglasses, a cap, and drink lots of water to avoid heatstroke and sunstroke. Do you think it might rain? Then don't take any chances and bring a waterproof poncho to avoid getting soaked.
Meta: All you need to know to better prepare for a camping festival.
Description: Read this article and find out about the essential things you need to bring with you to have a fantastic experience at a camping festival.